Thessaloniki Prefect, Panayotis Psomiades, Says
Rainbow Congress is "Undesirable in Thessaloniki"
May 27, 2004

Read this page in Macedonian
Statement by Mr. Psomiades: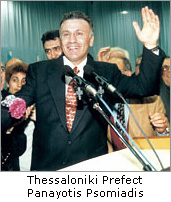 "Thessaloniki is always a good host to events like congresses, especially when the organizers are European entities which promote European ideas, principles and values, that should be respected by all. Thessaloniki and its citizens always respect free exchange of ideas and views, since the city also hosts permanent annual events of international magnitude, in all sectors of human activities.
Still, to accept in our city the organization of a congress from Ouranio Toxo-Rainbow, known for its anti-national views that directly provoke the national reflexes and sensitivities of Greeks all over the world and especially those of the Macedonian Greeks, is a conspicuous violation of every principle of national dignity, sensitivity and minimum earnestness. Therefore and for all reasons mentioned above, we consider these well-known circles, as well as their representatives, undesirable in Thessaloniki. "