European Free Alliance in the European Parliament
Press Release - Barcelona
March 26, 2004

Read this page in Macedonian
Historic Agreement on Political Parties Signed in Barcelona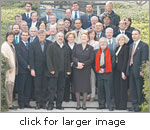 Representatives of 30 political parties from across Europe signed the official declaration establishing EFA (the European Free Alliance) as a European Political Party in Barcelona today.
This comes in the light of new regulations on founding political parties at the European level and is designed to promote even closer working between progressive political parties that fight for a democratic Europe of the peoples with full representation for regions and historic nations.
The European Free Alliance (EFA) is an association of regionalist and democratic nationalist parties from across the European Union, represented in the European Parliament by nine MEPs from Scotland, Wales, Catalunya, the Basque Country, Flanders, Galicia and Aragon.
Speaking from Barcelona after the agreement was signed, Nelly Maes MEP (Spirit * Flanders), President of EFA said:
'Today's historic agreement means that EFA is the first and the only political party established at the European level with the defence of the interests of regions and historic stateless nations as its main aim. EFA will have the status of a European political party with legal personality. We were founded over twenty years ago as a federation of political parties and today we have become a fully fledged political party in our own right.
Working together at the European level, we are now in a much stronger position to fight for the rights of Europe's regions and statelss nations thanks to today's agreement. We look forward with confidence to the European elections in June. Our fight for full democratic representation and recognition of the rights of Europe's regions and stateless nations is infinately strengthened by the even closer alliance we have formed today in Barcelona.'
Today's agreement was signed by representatives of political parties from across Europe including Bloque Nacionalista Galego, Chunta Aragonesista, Esquerra Republicana de Catalunya, Eusko Alkartasuna, Partido Sardo d'Azione, Plaid Cymru * the Party of Wales, Scottish National Party, Partido Nacionalista Vasco, Spirit (Flanders), Partit Socialista de Mallorca.
Contact:
Steven Cornelius
EFA Press Officer
+32 (0)473 560967