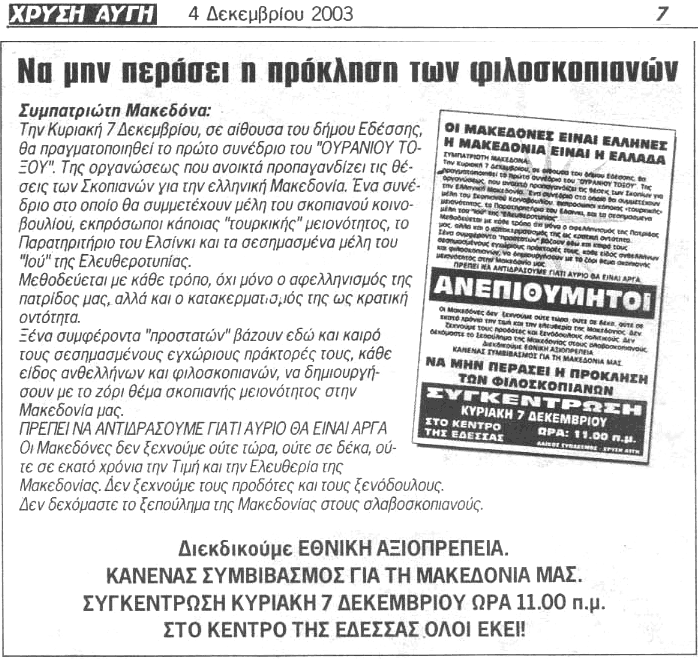 ---
Golden Dawn - 4th December 2003
Stop the Provocation by the Filoskopjans
On December 7, 2003, in a conference hall belonging to the town of Edessa, the first congress of the "Rainbow" party is going to take place. This is an organization that openly propagandizes the positions of Skopje in regards to Greek Macedonia. A congress whose participants include members of Skopje's legislature and representatives of some "Turkish" minority, the Helsinki Watch and also the marked journalists of "IOS" from the newspaper "Eleftherotypia."
The foreign interests of "protectors" are to be found here from these marked internal agents of every kind who are anti-Greek and filoskopjan and work to create by force an issue of a skopjan minority in our Macedonia.
We must react now because tomorrow will be too late.
We, the Macedonians, will never forget, not now, not in ten years, not in a hundred years the honour and the freedom of Macedonia!
We do not forget the traitors or those who work for foreign interests. We cannot accept the sellout of Macedonia to the Slavo-skopjans.
We claim national dignity.
No compromise of any kind for our Macedonia.
Rally Sunday, December 7th, 2003 at 11:00 AM
In Central Edessa
Everyone Must Be There!
---

Translator's Note:

Golden Dawn is a Greek neo-Nazi group and this article is in reference to a private congress of Greece's Macedonian minority party -- called Rainbow.

The term "Skopje" is a Greek vulgarism for Greece's northern neighbour, the Republic of Macedonia.

The terms "skopjan", "filoskopjan" and "Slavo-skopjan" are Greek vulgarisms used to refer to members of Greece's indigenous Macedonian minority.

The reader should be aware that Greece claims to possess no ethnic minorities and the existence of Macedonian and Turkish minorities is denied by authorities. The Greek Supreme Court is pondering whether Greece's (allegedly non-existent) Turkish minority should be allowed to use the word "Turkish" when it self-describes. At present, members of this group may only refer to themselves as Greeks of "Muslim" extraction.