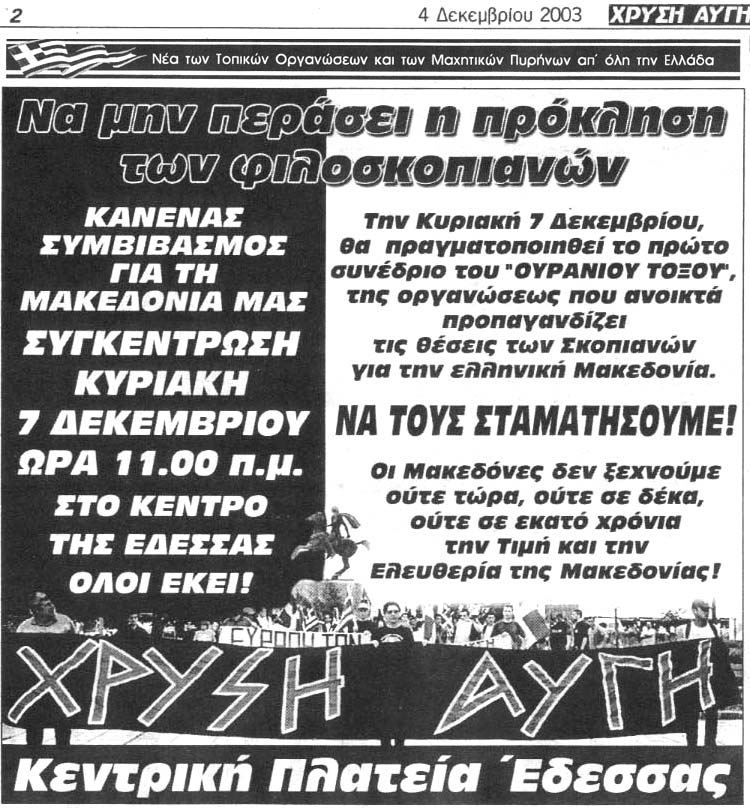 ---
Golden Dawn - December 4, 2003
The Provocation of the Filoskopjans Should Never Be Allowed
No compromise for our Macedonia
Rally on Sunday, December 7, 2003
11:00 AM in the centre of Edessa
Everybody be There!
On Sunday, December 7, 2003, the first congress of the "Rainbow" party will take place, an organization that will openly propagandize the positions of the skopjans for Greek Macedonia.
We Must Stop Them!
The Macedonians will never forget, not now, not in ten years, not in a hundred years the honour and the freedom of Macedonia!
Golden Dawn
Central Square Edessa
---
Translator's Note:
Golden Dawn is a Greek neo-Nazi group and this appeal urges that a demonstration be held to block members of Greece's Macedonian minority party (Rainbow) from holding a private meeting in a banquet hall in the town of Edessa.
The terms "skopjan", and "filoskopjan" are Greek vulgarisms used to refer to members of Greece's indigenous Macedonian minority.